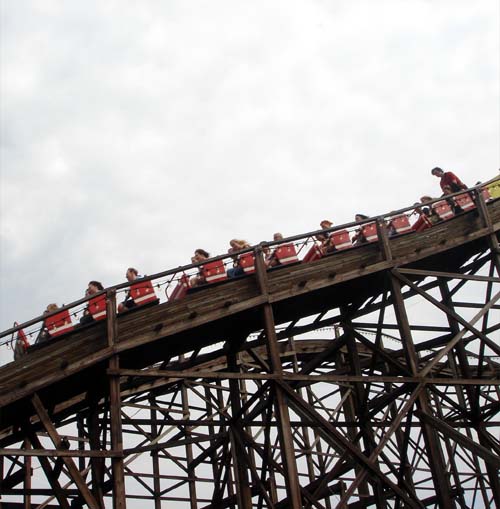 I was asked by the lovely and talented blogger
The Divorcee Dares to Dream
what I thought ofthe MA in Creative Writing I took a few years ago. I penned a few words in reply, but not being able to exceed 140 characters became a bit of a challenge even to such a
Twitter Tart
as myself.
I've referred to my Creative Writing course before on this blog, but I don't think I've ever actually done a whole post about it, so here goes.
Whenever people ask me when I started writing, I tell them that I've always written. This is obviously not true; I'd say that since leaving university I've sort of always written down stuff, and enjoyed it, be it diaries, short stories, long letters and such. It wasn't until just after I turned thirty and was unbearably bored by my job as a Financial Controller in my husband's business that I started to pen down something that could be called a piece of fiction. Or it could be that I was bored with life itself, or that I was having an age crisis (the first one - aah, those were the days...) or that I just finally found what it was I was good at and wanted to do.
Years later I decided that perhaps I should try to write a novel. Again years passed but I persevered and finished what I called my first manuscript. By now I was in my early forties. Life does that to you: years pass when you don't act on your first hunch. Children grow, need shoes and school fees and even some food needs to be put on the table.
After the heady feeling of the achievement of actually having finished a manuscript settled down a bit I happened on an article in the local paper about an
MA course in Creative Writing at Bath Spa University
. My hands trembled when I picked up the phone and asked if there were any places left. 'No' came the answer but the friendly woman said to put my application in any case. Lo and behold a place did come up and after a gruelling interview with the course leader (who wore sandals and shorts in February) I got a place.
I was over the moon; I'd only really applied to see if I could write in English. And the shorts-wearing expert had told me I could write well enough to deserve a place. Happy Days.
The best way to describe that year-long MA is to say it was a true roller coaster. The first high was the place itself, but the low wasn't far away. I missed my first week of the the course as my dear uncle in Finland died, and by the second week I felt ill-prepared for the first critique session. When it was my turn to read from a piece of work - I'd chosen a passage from what I then thought was my finished manuscript - I was sweating buckets. My voice trembled and when I'd finished there was an ominous silence.
The format was that the person who's worked was being 'critted' would only be allowed to speak if a question was posed to him/her. Nobody asked me anything, but they did have opinions about the work. The worst comments I remember were, 'It read a little like an Aga saga' and 'To me it felt like a translation.' The Aga saga I could take - they sold millions of copies - but the 'translation' hit me where it hurt most. Like a good Englishwoman, which I thought I'd become, I kept my tears at bay and my feelings hidden.
I am now good friends with both of the people who made these comments, so we really learned not to take things personally. (Though I still remember, writers' egos are very fragile indeed...)
My novel, which fondly became known as 'The Hanging Nanny' never saw the light of day after the first term of my MA was finished. And I didn't do very well in the end of term exams. I didn't understand what the tutors wanted from me, or I didn't do the writing exercises exactly the way they'd told me to do.
But I persevered and in the second term I suddenly began to find stories in me that worked. I realised that what I really wanted to do was to write about Finland, and as soon as I did that, my crits improved. I got some wonderful comments from people whose opinions I really valued.
And here's one of the pieces of advice that I'd give to anyone thinking about doing and MA. Not everyone - including the tutors - will get your writing. So don't be disheartened if some love it and some hate it; at least you're getting a reaction. My first crit when no-one wanted to speak showed me that it didn't move anyone - only the passage where the nanny hanged herself (this story was
bad
) brought a reaction. But, ultimately, if you're honest with yourself you will find the best stories in your head, and the best way of telling them with a little help from your tutors and writing friends.
And that brings me to another piece of invaluable advice I was given right at the start of the course. Make writing friends and keep hold of them, without constant editing advice, critting and - most importantly - encouragement, you'll never become a writer.
Apart from the constant writing during the year of my MA, what I most enjoyed was the many books we read and analysed. Husband sometimes says I've spoilt reading for him as he never paid any attention to Point of View or other technical writing issues, but I disagree. It's so much more enjoyable when you do find a well written book that totally absorbs you in a way that even you, the Queen of POV, forget about first and third person or omniscient narratives.
So I would definitely recommend an MA in Creative Writing. If you like writing, or rather, if you can't stop yourself from writing, it'll definitely make you a better writer. Whether it'll get you published, well that's another matter. My manuscript,
Coffee and Vodka
,which came out of the MA, is some of my best work, I think. I had a huge amount of help for it from my tutors well after the course was finished. These same hard-working tutors were also kind enough to read and comment on my subsequent manuscript,
The Red King of Helsinki
, the novel that nearly got me an agent. Oh well...
Must just mention, there is a book called
The Watermark
, which I together with some other mad MACW's published as our Anthology for the MA year. If you'd like a copy, drop me an email....(once an tart always a tart.)